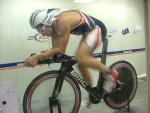 FFWD is a young company born in The Netherlands in 2006.
Craftsmanship, high quality and durability are their most important values. In a few years of time FFWD Wheels has grown into a company with a global distribution network and a solid reputation.
All FFWD Wheels are handmade at the company in Netherlands. FFWD wheel builders pay close attention to every wheel. This leads to wheels which are feather light and strong as iron: FFWD Wheels are no mass product. FFWD Wheels are of high quality, hand built in the Netherlands
They used different technology as the:
- (DARCTM) double arc profile improves aerodynamics by reducing the drag. I tested it in the wind tunnel in November. My drag is lower than Mavic (0.23 vs 0.24) for example.
- They use High-Tensile TC-35 carbon for the majority of the lay-up. But in some lay-ups they add some higher modulus sheets to increase stiffness locally. So, their guideline is to find the best compromise between stiffness and durability.
Caja Rural and Topsport Vlaanderen road teams are riding with FFWD. In total they sponsor around 40 teams and 650 athletes all combined.
For my part, I tested the FFWD in the wind tunnel of Magny-Cours. And I obtained the best result ever riding the Disc and the 5 spokes front wheel.



www.ffwdwheels.com/